Domino 135HD 2D/3D Laser Cutting System with 3500 Watt CO2 LASER at Stainless Fabricators

Stainless Fabricators, Inc. We are proud to announce the October 2004 arrival of the Prima 5-axis laser with a rotary chuck. The rotary chuck feature, adds a 6th axis, allowing us to rotate the part while cutting, which means true 3-D coping and cutting capabilities in tubing, and formed flat stock. With the capabilities Stainless Fabricators, Inc. now possesses, we are able to manufacture complicated 3-D parts quickly and accurately; making possible the production of parts that were once thought to be near impossible or cost prohibitive. The opportunity for such a widely expanded new scope has our staff eager to explore new innovations and design concepts.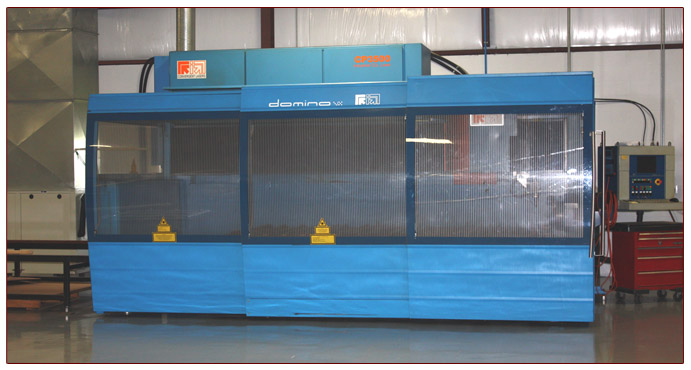 The new capabilities gained with the addition of this 21st century technology will enhance many aspects of the services we already provide, as well as aid in exploring new directions and keep Stainless Fabricators, Inc. at the leading edge of the stainless fabrication, and parts manufacturing industry.
With this single acquisition, Stainless Fabricators, Inc. has become one of the most vertically integrated custom parts manufacturers in our industry. For years we have enjoyed a spotless reputation with many boat-manufacturing companies and well known General-Contractors.
We are only getting better, and with a boost to our core competencies, a focus on forward integration and vertically structured production practices, Stainless Fabricators, Inc. is ready to ride the wave of change.